Global stocks rose since last week as new round of vaccine optimism and diminishing political uncertainty helped stocks build on recent gains. The optimism then strengthened with the news of Britain on Wednesday approved a vaccine developed by Pfizer and BioNTech and said it would start inoculation of those most at risk as early as next week.
The vaccine is one of three that could get approved in the U.S. before the end the year. Last month, AstraZeneca and Moderna reported that their vaccines were about 95% effective in preventing illness, setting the bar sky-high.
Of the hundreds of vaccines being studied, four have received worldwide attention - the Pfizer and BioNtech vaccines, the Moderna vaccine, the AstraZeneca and Oxford vaccine and the Russian vaccine, Sputnik V.
Some investors have made a lot of money this year on the stocks of companies developing coronavirus vaccines. Several of these stocks have increased by hundreds of percentage points in a relatively short period of time. And this has happened before any COVID-19 vaccine has won emergency use authorization or regulatory approval.
There's still plenty of money for investors to make in the coronavirus vaccine race. Golden Brokers look at these four COVID-19 vaccine stocks to be observed.
1. Pfizer (NYSE: PFE) / BioNTech (NASDAQ: BNTX)
Pfizer was founded in 1849 and has a global portfolio of medicines and vaccines. The company is high on the list for coronavirus vaccine stocks after Britain announced their approval to use the vaccine to the people as early as next week. The company claimed that the vaccine candidate had a 90% effectiveness during phase three trials. The vaccine requires two doses, three weeks apart with a possible $20 price tag for each dose.
Many investors got excited with Pfizer and BioNTech's coronavirus vaccine announcement as it was the first company to provide positive phase three trial results. However, challenges do remain in how it could be administered, as the vaccine needs to be stored at around -70C, or -100F, for optimal efficiency and needs to be mixed with another liquid first before being administered.
While, other pharmaceutical companies announced they will sell the drug on a not-for-profit basis to governments, Pfizer has taken a different stance and is using it as a commercial opportunity whereby the two entities are set to rake in nearly $13 billion in global sales from their vaccine. The company shares increased 12.85% in the last year.
2. Moderna (NASDAQ: MRNA)
Moderna is an American biotechnology company that was founded in 2010. The company is much smaller and less well-known than some of the larger pharmaceutical giants and focuses its efforts on vaccine technologies based exclusively on the mRNA technology. The company make news in 2018 after its largest IPO for the biotech sector raising $600 million for 8% of its shares giving it a valuation of $7.5 billion - even though they reported losses of $1.5 billion at the time. As of November 2020, the company was worth an estimated $35 billion due to its advancements in developing a coronavirus vaccine.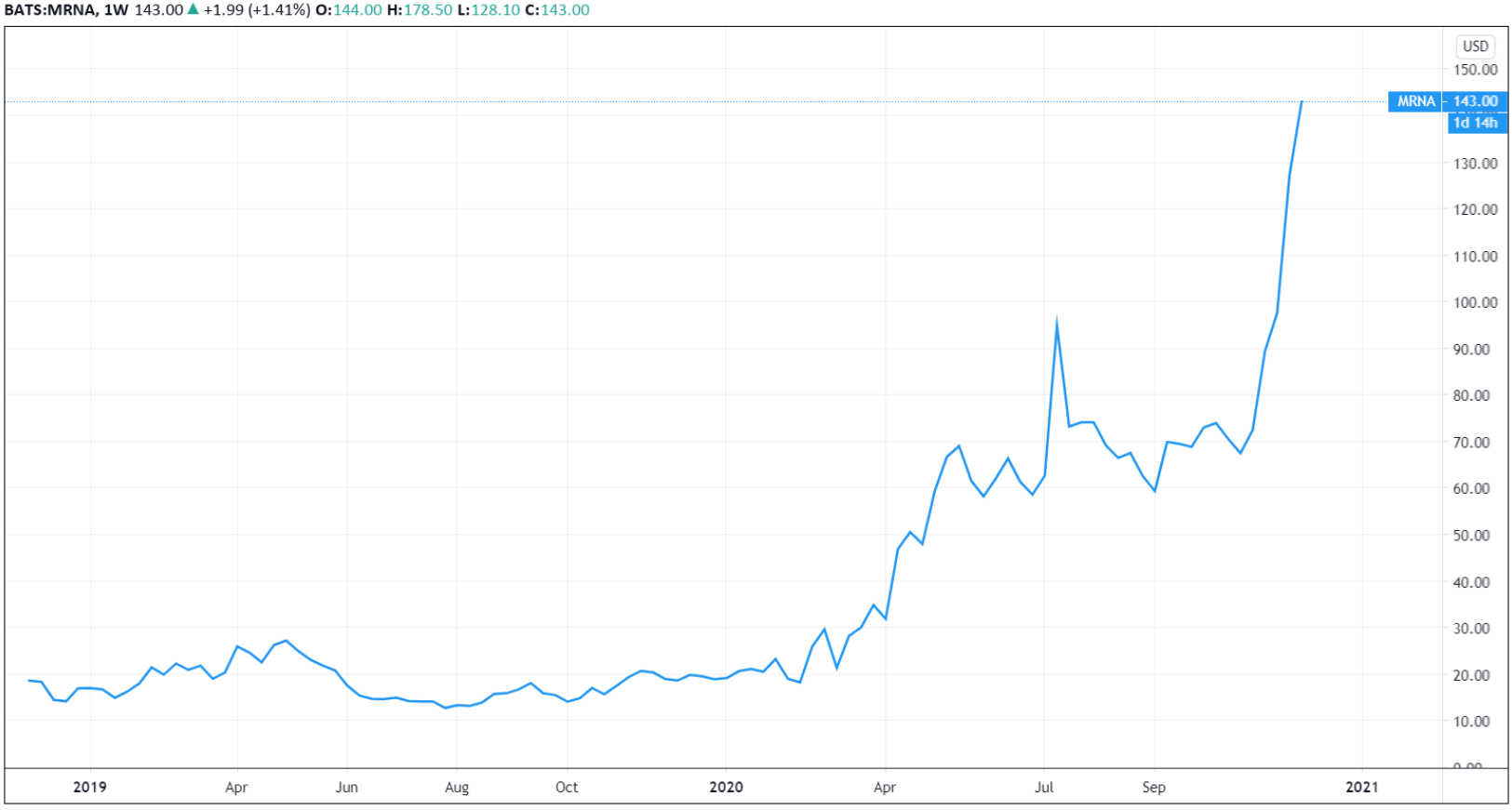 While the price for a dose at $38 is the highest of all the potential vaccine candidates it does not have the same storage and delivery issues that Pfizer and BioNTech have. It can also be administered using widely available vaccine delivery systems with no dilution required before being administered.
Investors have clearly liked the development of the Moderna vaccine stock trend. Price action in the chart above shows the uptrend that first started in the middle of 2019 but then accelerated sharply in 2020. U.S. government announced it is buying 100 million doses from Moderna, while the UK government announced it is buying 5 million doses. The company shares increased as much as 572.31% in the last year.
3. AstraZeneca (NASDAQ: AZN) / Oxford University
The company was founded in 1999 through the merger of the Swedish Astra AB and the British Zeneca Group. AstraZeneca and the University of Oxford announced its coronavirus vaccine phase three results on November 23. The vaccine developed from this collaboration works like a traditional inoculation whereby a protein of the virus is injected into a human where the immune system will build a response if the real virus is contracted.
The trial found that taking two doses of its vaccine has a 62% effectiveness. However, a half dose followed by a full dose four weeks later led to an effectiveness of 90%. AstraZeneca have already stated they will not sell the vaccine for a profit and will be just under £3 per dose making it the most cost-effective vaccine and available for all countries.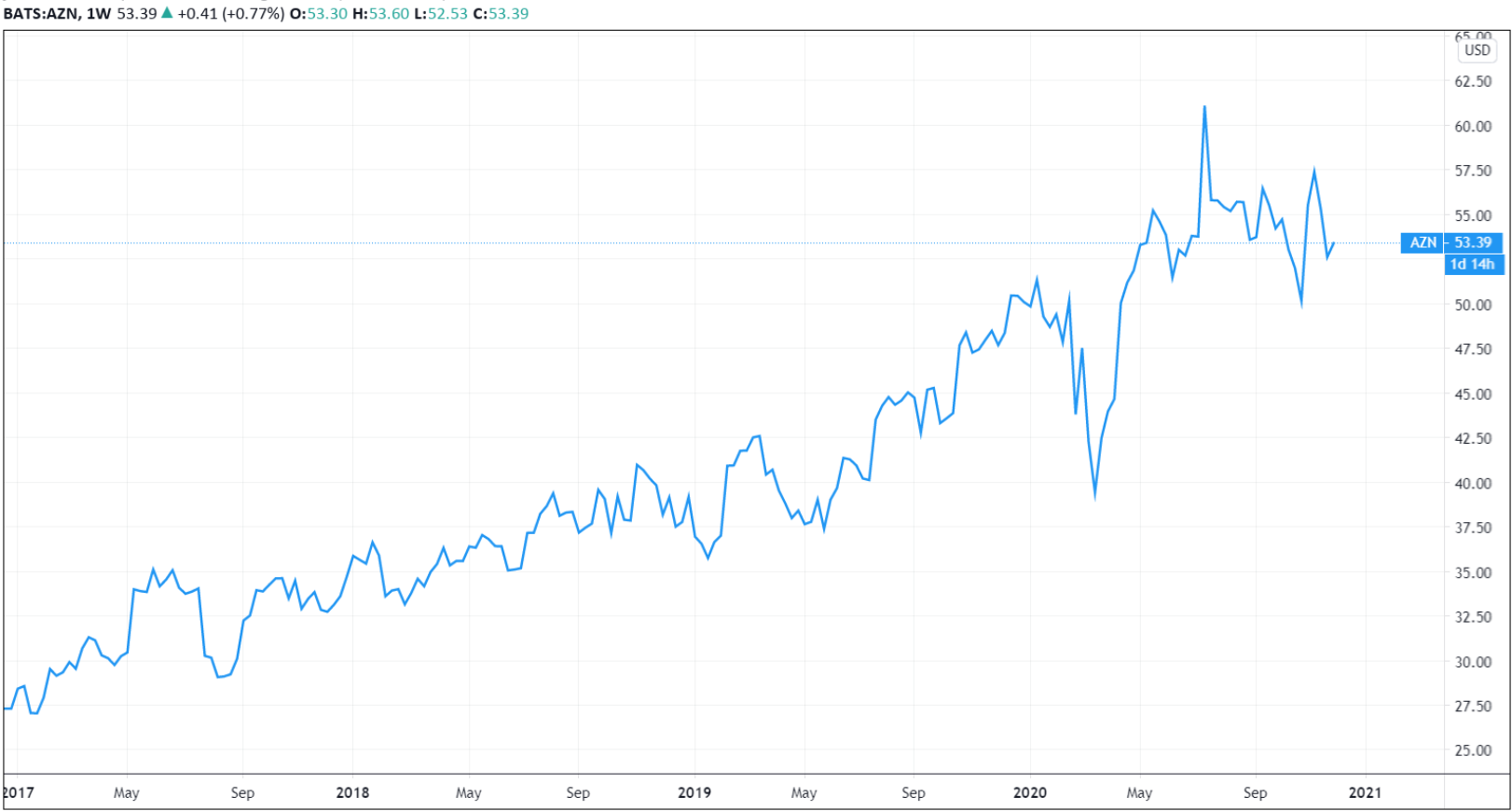 In the long-term monthly price chart of AstraZeneca's share price, it is clear to see a very choppy uptrend. While its share price has been moving higher there have been significant declines at various points. Taking a long-term view and utilising strong risk management techniques is essential in dealing with such choppy share prices. In the last year, the company shares have increased as much as 10.77%.
4. Novavax (NASDAQ: NVAX)
Novavax delivered the biggest gains so far this year, as the shares have skyrocketed around 2,500% in the last year. Novavax currently has a late-stage clinical study underway for its COVID-19 vaccine candidate, NVX-CoV2373. The company plans to begin a U.S. late-stage study of the experimental vaccine by the end of November. It has already lined up agreements with Australia, Canada, and the U.K. to supply a combined total of 176 million doses of NVX-CoV2373 if all goes well. In addition, Novavax received $1.6 billion in funding from Operation Warp Speed in an agreement that includes supplying 100 million doses to the U.S.
In addition to its promising coronavirus vaccine, Novavax also has an influenza vaccine candidate, NanoFlu, that could be headed for approval by the U.S. Food and Drug Administration. The biotech announced outstanding results earlier this year from a late-stage study of NanoFlu. The main hurdle to jump now is a lot-consistency trial to demonstrate that the company's manufacturing processes are in order.
Despite its huge gain this year, Novavax's market cap stands at around $6 billion. With two potential blockbuster vaccines waiting in the wings, the stock could go a lot higher.