Dow Jones hits new record high on Fed's comment.
U.S. markets surged overnight with the Dow hitting a record high as bond yields came off their highs after the Fed chairman downplayed the threat of inflation. European stocks also advanced after the Fed chairman's comments and positive Germany's GDP growth.
Dow Jones Industrial Average jumped more than 400 points to a record closing high of 31,961.86 on Wednesday, set for its best month since November. Bond yields also surged after Powell's pledge of continued economic support. The 10-year Treasury yield traded at 1.381% on Wednesday, though had risen earlier to 1.435%, its highest since February 2020. 30-year yields reached 2.25%, the highest since January 2020.
The recent rally was supported as Powell reiterated to lawmakers Wednesday that the central bank was a long way from scaling back its ongoing economic support, while expressed that the Fed does expect inflation to rise but central bank has "the tools to deal with it.", pushing back the inflation concerns, added that it could take three years to reach the central bank's target consistently. Powell additionally said that higher bond yields reflected investors' confidence in an economic recovery, not concern about inflation.
The Federal Reserve Chairman was speaking Wednesday to the House Financial Services Committee, the day after the he gave another testimony before the Senate Banking Committee.
Aside from the dovish Fed's statement, other factors driving the stock market is on the fiscal stimulus, the corporate earnings, as well as the third vaccine from the J&J.
Investors lately have been having a hard time shaking those fears over rising inflation and higher borrowing costs with President Joe Biden's $1.9 trillion stimulus bill likely to pass and vaccine distribution across the country improving. According to the President, the size of the stimulus checks of $1,400 is non-negotiable, but some parts of the bill could be negotiated. The stimulus bill is expected to be approved by March 15.
Apart from that, investors also keep an eye on the development of COVID-19 vaccination around the world. Johnson & Johnson on Wednesday closed 1.3% higher after the U.S. Food and Drug Administration said that the company's one-dose COVID-19 vaccine appeared safe and effective in trials, paving the way for its approval for emergency use as soon as this week.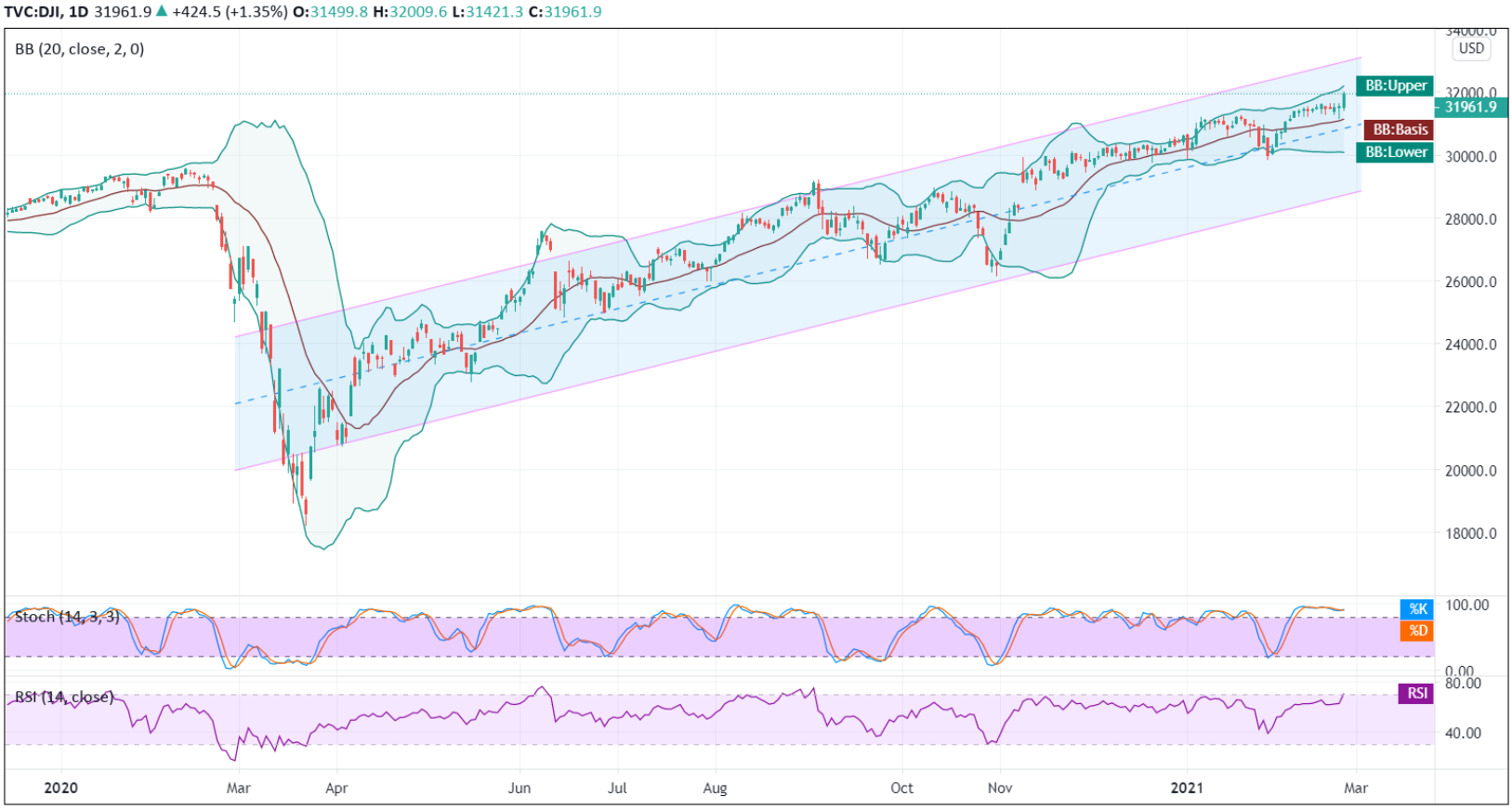 The technical scenario for the Dow is strongly bullish after the price break above 31,000 zones and overall, the movement remained bullish throughout this week. While considering the recently bullish rally, the Dow may find strong resistance to break 32,300 where the price has strong resistance. On the flip side, should the Dow fail, and it still good despite recently bullish price action, a decline to the March trend-line may be in order, with immediate support likely at 31,400 followed by 31,000 & 28,400.