Electric car company Rivian Automotive Inc. exploded into public markets earlier this month with a monstrous IPO. Rivian is a company that designs and manufactures electric vehicles (EVs) and accessories and offers related services.
The company was founded in 2009 as Mainstream Motors, before renamed to Avera Automotive and finally to Rivian Automotive in 2011. Originally, RJ Scaringe, the founder and CEO pursued the idea of an electric sports car but later changed track to focus on trucks and vans. The company produces and has begun delivery of its first-generation consumer vehicle, which is a two-row, five-passenger pickup truck named the R1T.
Rivian's stock had debuted on public markets on November 10, 2021, through a highly anticipated initial public offering, trading on the Nasdaq under the symbol "RIVN". The stock was priced at $78 and opened at $106.75 per share out of the gate. It closed the day trading at $100.73 per share, giving the company a valuation of just under $100 billion, before jumped above the mark in the next day. At that value, Rivian was worth more than General Motors or Ford and behind only Tesla in terms of the market cap of automakers.
Although it's a newcomer to the stock market, Rivian's entry into the EV space has been more than a decade in the making. Over the years, it has attracted a wide array of heavy hitters. Amazon, an early investor in Rivian, is one of the biggest shareholders, owning a 20% stake. In September 2019, Amazon has signed a deal for 100,000 Rivian vehicles to be delivered by 2030, with the delivery of the first 10,000 new Rivian-Amazon delivery vehicles on the road as early as next year. Rivian also has attracted the legendary automaker, Ford Motor Co. as a shareholder, owning about 12% of the company.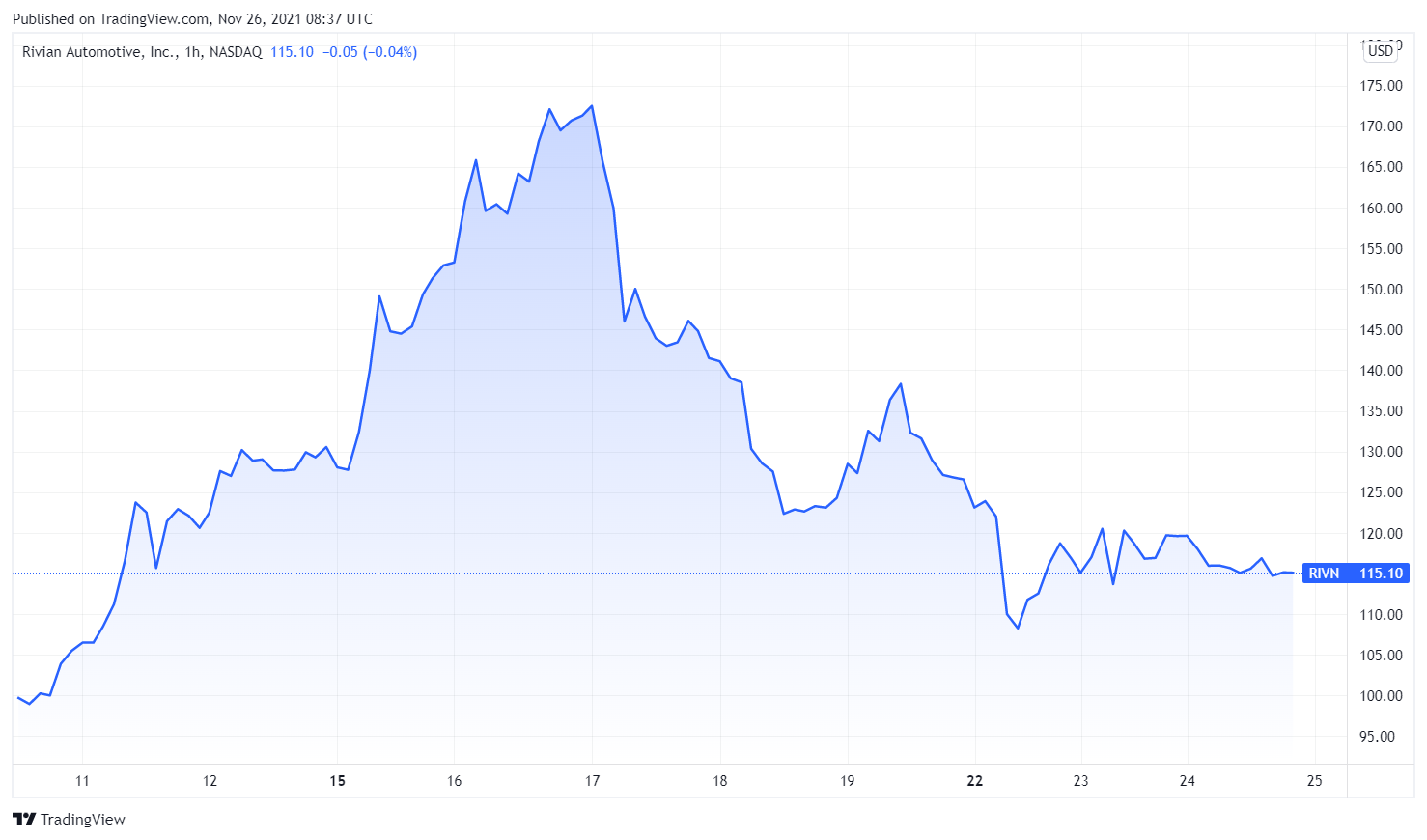 The bullish post-IPO rally made the Rivian to be compared to Elon Musk's Tesla, which transformed the market for electric cars in the recent years. But is this going to be a real competition or is it just EV bubble?
Since Tesla's relatively moderate IPO in 2010, the EV market has turned into a haven for speculators, with the Palo Alto's based company serving as the catalyst. Tesla has largely dominated the electric vehicle market for years, amassing a market value of more than $1 trillion along the way. In its third quarter 2021 earnings report, Tesla revenue growth was 57% YoY, having sold around 627,000 vehicles for the year and is negotiating a deal with Hertz for 100,000 of its electric cars.
Meanwhile, Rivian is only just starting to roll out its first vehicle, the R1T electric truck in September and will launch its electric SUV, the R1S, in December. For now, the company says it has 55,400 pre-orders for its R1S SUV and R1T pickup truck, alongside the Amazon's orders. The assembly plant in Normal, Illinois can currently build only 150,000 cars a year. For a start-up that has never recorded revenue in its history, the company expects less than $1 million sales in the third quarter of 2021. Currently, the R1T reportedly will starts at around $68,000.
When Tesla went public in 2010, the Elon Musk-led firm disclosed $93 million in revenue and losses far below the $1 billion Rivian reported for the first half. What's more, Tesla's initial market capitalization was about $2 billion and didn't reach $90 billion until 2020. On Wednesday, Tesla closed at $1,116.00 and is one of only five U.S. companies valued at over $1 trillion.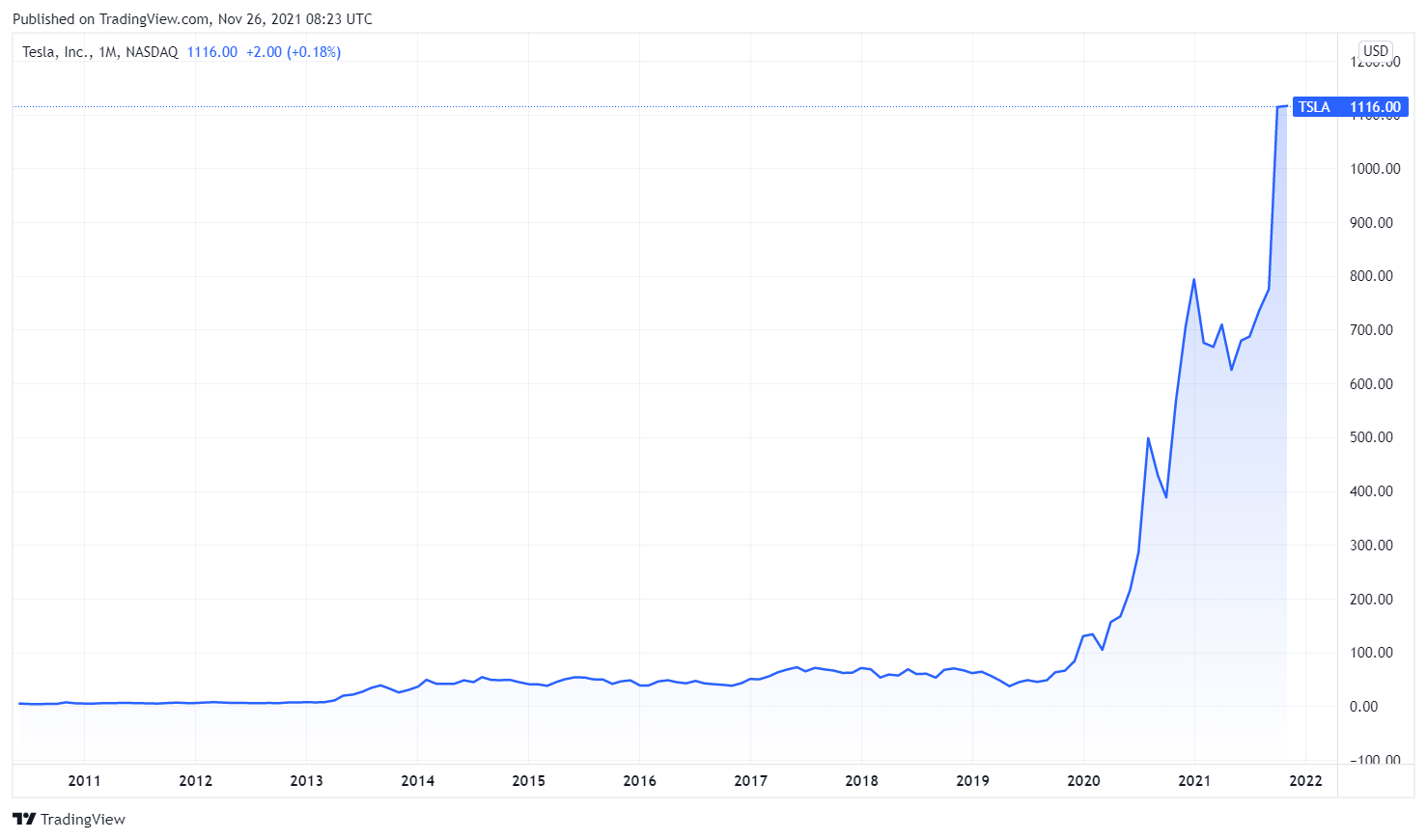 Even in the best Tesla-like scenario, it could be a long time before a bet on Rivian pays off. Tesla's share price, for instance, bounced between $30 and $75 for most of the five years leading up to 2019.
Tesla undoubtedly could retain pole position for decades to come. The company for now is in its best shape of its life, and the stock price has reflected that. Long gone are the days of fluctuations between profitable and unprofitable quarters, not to mention production nightmares. Tesla is growing production, expanding manufacturing, notching quarter after quarter of growing profit - all while sustaining an incredibly high operating margin.
Trusting Rivian to assemble the vehicles and deliver them profitably represents a massive gamble for investors who are already valuing the company higher than traditional auto giants Ford and General Motors.
As the market leader with years of experience over its competitors, Tesla stands to benefit the most from rising global EV adoption. It has also successfully developed and scaled production of lower-priced models like the Model 3 and Model Y, which have a higher total addressable market than the Rivian R1T and R1S.
There're also others in the general EV space that have skyrocketed of late, with China's Nio valued at $66 billion and California's Lucid Motors worth about $86 billion four months after hitting the public market. Nio reported Q3 revenue of about $1.5 billion and an operating loss of over $150 million. Meanwhile, Lucid just confirmed last month the first customer deliveries of its $169,000 Air Dream Edition sedan were set to begin.
The competition in the EV truck space is also mounting. General Motors and Ford are planning new electric trucks and SUVs over the next year or so with GMC Hummer, Chevrolet Silverado EV, and F150 Lightning, while Tesla also looking to enter the market later this year with its Cybertruck pickup.
Meanwhile, by traditional metrics, all these stocks are astronomically expensive. Tesla has a price-to-sales (P/S) ratio of 26.8 and a price-to-earnings (P/E) ratio of 358.9, while Rivian barely has any sales. Though it's worth noting that Rivian has an order backlog in place. Given this environment, it's important for growth investors to understand that all the stocks are likely to be quite volatile in the short term, even if the long-term prospects shine bright.
Potential
But business fundamentals aren't the only force driving the current run-up in EV stocks. Rather than focusing on the number of cars its sold, investors currently are anticipating potential for Rivian with the possibility that the companies may become game changers in the automotive industry. In an era of speculation headlined by cryptocurrencies, NFTs and SPACs, investors seem willing to overlook fundamentals and focus on the far-out potential.
That being said, there's no guarantee that the company will be successful. Rivian will inevitably face growing pains as a public company. No one will be driving around in a Rivian truck until late 2021 or early 2022—a date that has been pushed back more than once already and may be extended again as the company sorts through the supply shock caused by pandemic lockdowns.
Still, its astronomical valuation does indicate the strength and popularity of electric vehicles, as well as investor confidence that the industry is the future of transportation. It's important to remember many also thought Tesla was overvalued in the years after it went public. More than a decade later, the company is stronger than ever.
While some suspect that it's a bubble in the making, of course, only time will tell whether Rivian is worth the hype. Now let's see some electric cars and trucks roll out onto the street.