Mastercard Incorporated is a global technology company in the payments industry, that connects consumers, financial institutions, merchants, governments, and businesses across the world, enabling them to use electronic forms of payment. The Company allows user to make payments by creating a range of payment solutions and services using its brands, which include MasterCard, Maestro, and Cirrus.
It provides a range of products and solutions that support payment products, which customers can offer to their cardholders. The products include consumer credit, consumer debit, prepaid and commercial credit, and debit. It also provides integrated offerings such as cyber and intelligence products, information and analytics services, identity verification services, consulting, loyalty and reward programs, processing, and open banking.
Mastercard Incorporated was founded in November 1966, and headquartered in Purchase, NY. It was originally known as Interbank from its inception to 1969, and Master Charge from 1969 to 1979. In 1979, "Master Charge: The Interbank Card" was then renamed "MasterCard". In 1983, MasterCard became the first bank to use holograms as part of their card security.
In mid-2006, MasterCard International changed its name to MasterCard Worldwide. And in July 2016, Mastercard introduced their new rebranding, along with a new corporate logo. In addition, they changed their service name from "MasterCard" to "mastercard".
The company had an initial public offering on May 25, 2006, selling 95.5 million shares at $39 each. Prior to its initial public offering, Mastercard Worldwide was a cooperative owned by the more than 25,000 financial institutions that issue its branded cards. (In response to the BankAmericard issued by Bank of America, which later became the Visa credit card issued by Visa Inc.)
Mastercard earlier last week announced that its Board of Directors has declared a quarterly cash dividend of $0.49 per share, in line with previous. The cash dividend will be paid on August 9, 2022, to holders of record of its Class A common stock and Class B common stock as of July 8, 2022.
The company began to offer a dividend in July 2013, starting at $0.60 per share biannually, before switching from to quarterly dividends for the subsequent year with $0.11 a share per quarter, followed by successive increases in each year pay-outs.
Today, the share price was traded at around $316. The stock is traded on the NYSE under the symbol MA, with a market capitalization of $308.72 billion as of June 2021.
Mastercard last issued its quarterly earnings results on April 28th. The credit services provider reported $2.76 earnings per share for the quarter, topping analysts' consensus estimates of $2.18. During the same quarter in the prior year, the firm earned $1.74 EPS. The company had revenue of $5.17 billion for the quarter, compared to analyst estimates of $4.90 billion, and a net margin of 46.00%. The revenue for the quarter was up 24.4% compared to the same quarter last year, with a return on equity of 133.72%.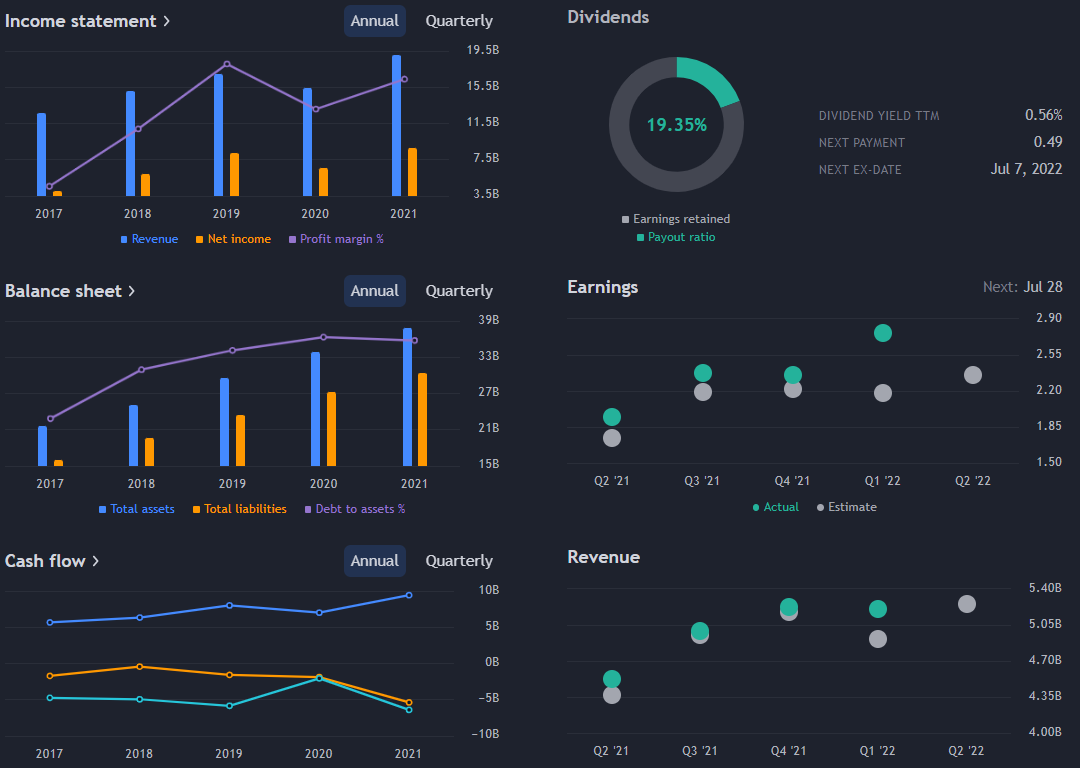 Stock Performance
- The all-time high Mastercard stock closing price was 401.50 on April 4, 2021.

- The high in the last 52-weeks of MasterCard stock was 399.92, which is 20.79% above the current share price.

- The low in the last 52-weeks of MasterCard stock was 303.65, which is 4.32% below the current share price.
In its performance, Mastercard stock price growth has driven up by a staggering 260% in the last five years, and up 20% in the last three years. The price, however, gradually declining, losing about 10% of the value in 2022.
Notably, the company is heavily dependent on consumer spending levels. The record-high consumer inflation, the Russia-Ukraine crisis, and aggressive interest rate hikes by the Federal Reserve have amplified the possibility of the economy sliding into recession, leading to the recent stock market correction and to hurt consumer spending levels.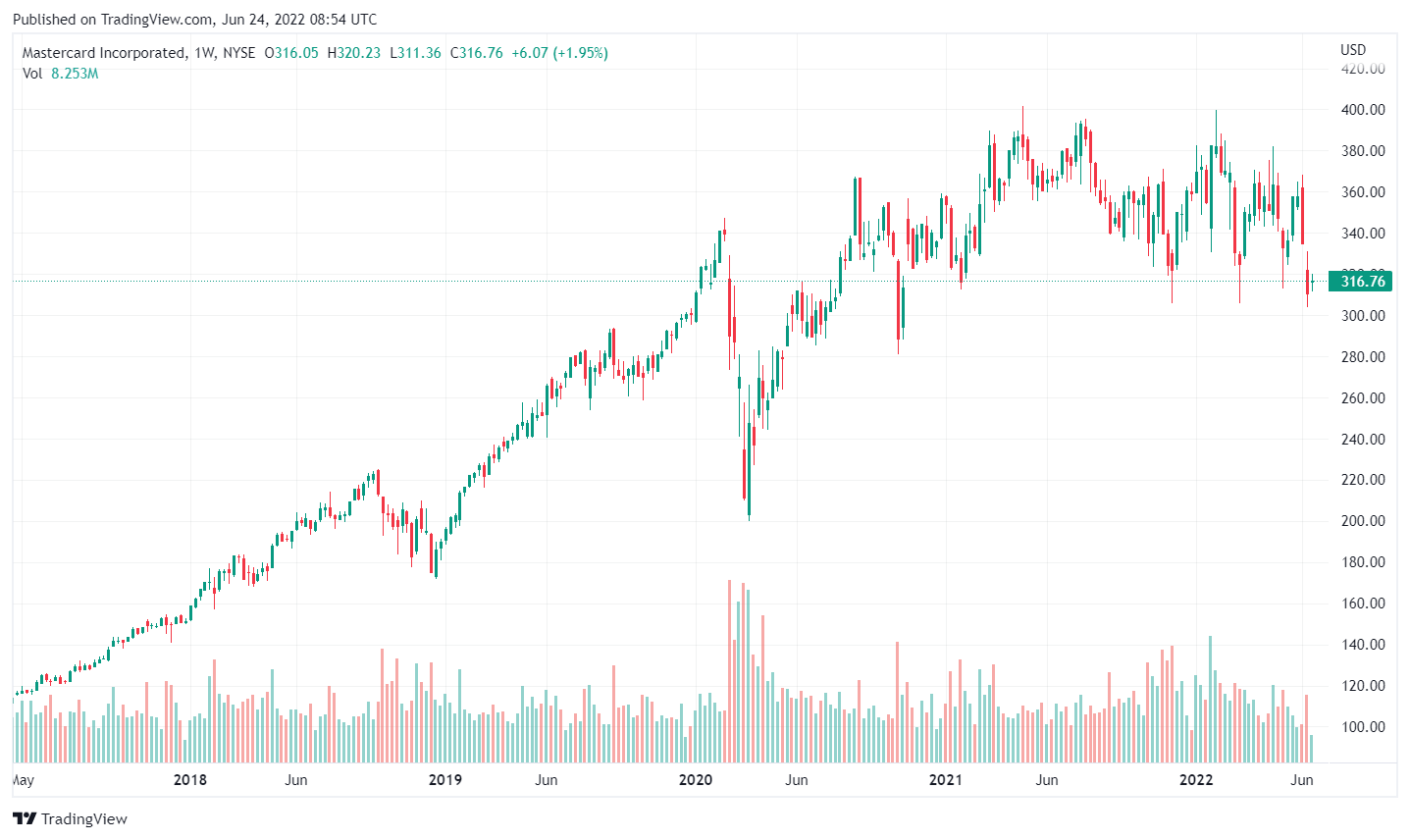 Analysis: The shares recent pullback hence put investors wondering: Is Mastercard stock a buy right now?
We believe the market has continued to draw in dip buyers close to its near-term support. The stock lies in the lower of a wide and falling trend in the short term, and this may normally pose a very good buying opportunity. Mastercard Incorporated finds support from accumulated volume at $304.62 and this level may hold a buying opportunity as an upwards reaction can be expected when the support is being tested. Given the current short-term trend, the stock however, is expected to fall slightly during the next 3 months and, with a probability to hold a price between $287.78 and $370 at the end of the period.
We're offering price forecasts for Mastercard to have a median target of 403.90, with a high estimate of 482.00 and a low estimate of 314.00. The median estimate represents a 78.58 difference from the last price of 316.62.
Challenges and Opportunities
The businesses of Mastercard are fairly dependent on consumer spending and business activity. Investors are now worried that if high inflation persists, the Fed will have to remain aggressive with monetary policy, which increases the likelihood of a recession or stagflation. Either one would hinder consumer and business spending.
The U.S. government's latest report on the CPI rose 8.6% year over year. Not only was that higher than expected, but it was also an indication that inflation may not have peaked yet. In response, the Fed opted for a 75-basis point hike, the largest such move the agency has made at a single meeting since 1994. The decision also as opposed to the 50-basis point hike the market had been expecting earlier. Fed Chairman Jerome Powell also said the Fed would likely increase interest rates by another 50 or 75-bps at its next meeting in July.
However, I definitely feel good about Mastercard over the long term. It has built one of the largest payments rails in the world, and it can prevail even during periods of high inflation because as purchases get more expensive, its transaction fees on those purchases rise in tandem. A slowdown in consumer spending would be detrimental to its business, but the company is large enough to withstand a recession and has a bright future ahead with the shift to digital payments.