INTRADAY TECHNICAL ANALYSIS 22 FEBRUARY (observation as of 07:30 UTC)
[EURUSD]
Important Levels to Watch for:
- Resistance line of 1.13908 and 1.14274.
- Support line of 1.12725 and 1.12360.
Commentary/ Reason:
The euro fell to a fresh one-week low of $1.13020 as investors remain cautious awaiting headlines surrounding the Russia-Ukraine conflict.

The Russia-Ukraine tensions heightened after Moscow on Monday recognised two breakaway regions in eastern Ukraine as independent.

Slide in stocks today meanwhile boosted liquidity demand for the dollar, though the upside was limited as a decline in T-note yields

The EUR/USD continues to float lower, primarily due to a lack of buying activity than any real conviction from sellers. The pair is likely now to languish in the current trading range between 1.127 and 1.139 price levels. Momentum indicators have downward trajectories. Fundamental factors are going to drive the pair rather than technical support and resistance for now.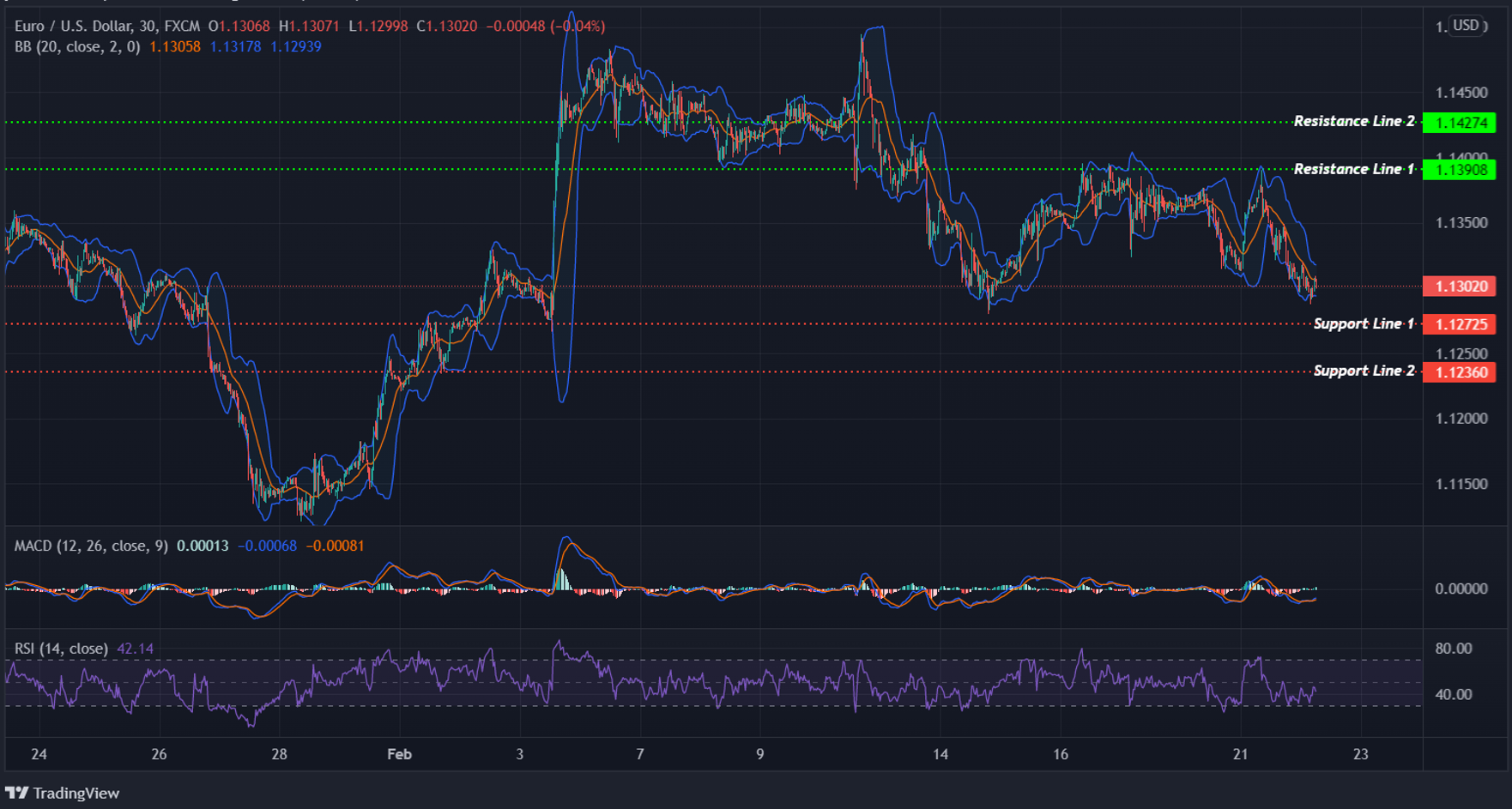 [USDCHF]
Important Levels to Watch for:
- Resistance line of 0.92175 and 0.92451.
- Support line of 0.91281 and 0.91005.
Commentary/ Reason:
The safe-haven Swiss franc was holding steady near the previous day's one-month high, to trade at 0.91628 franc on Tuesday.

As U.S. Treasury yields pulled down and evolve in a manner that is less supportive of the dollar, the Russia-Ukraine crisis appears poised to remain the primary driver.

Nervously eying tensions in eastern Europe, the safe-haven Swiss franc have been one of the major beneficiaries of the geopolitical tension.

In a case where USD/CHF drops below 0.912, the 2022 bottom surrounding 0.910 will be in focus. While on the flip side, corrective pullback will needs to scale 0.921, and beyond that, a downward sloping resistance line from January 31, around 0.9245, may lure the pair buyers.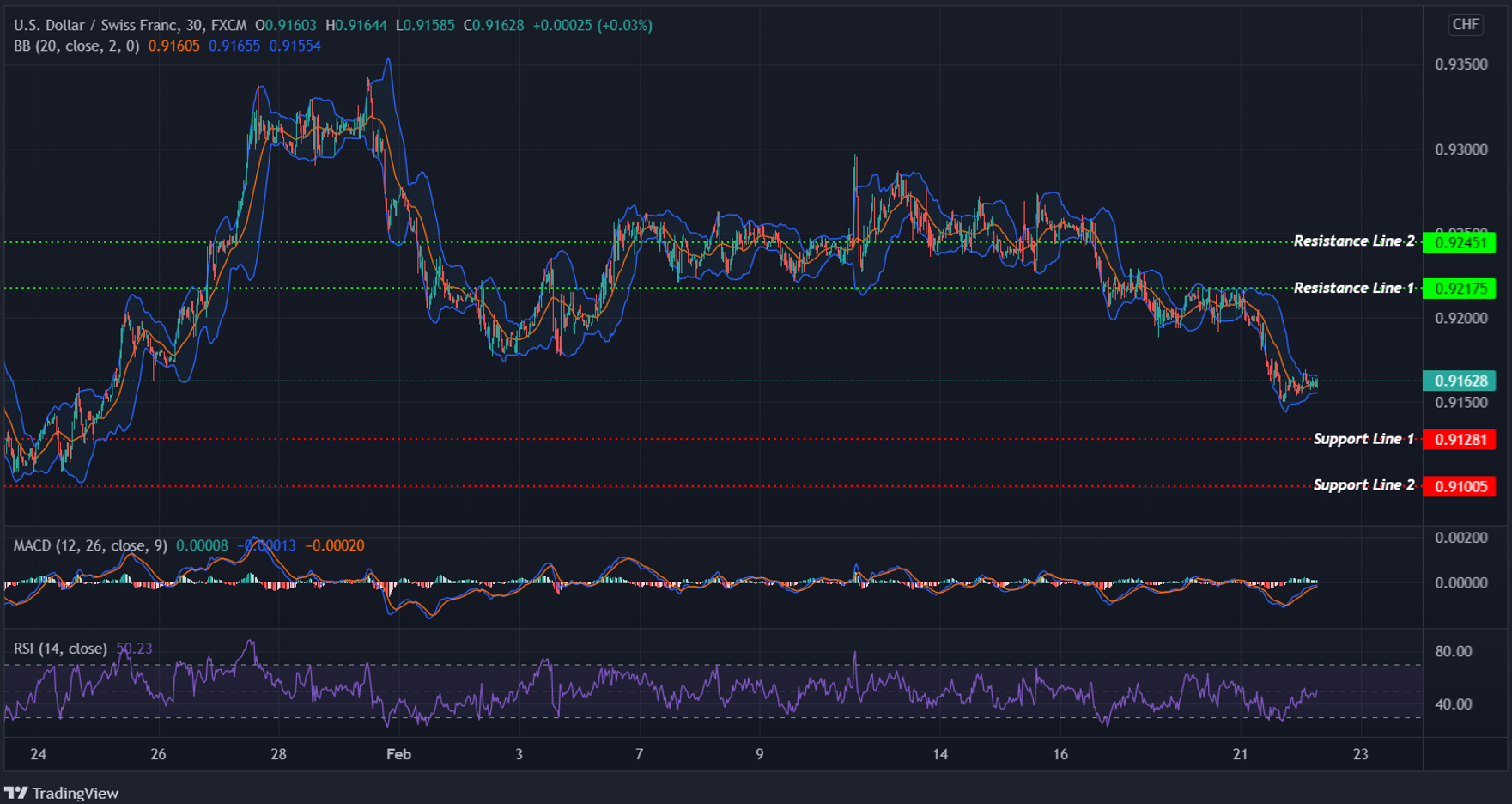 [USDJPY]
Important Levels to Watch for Today:
- Resistance line of 115.139 and 115.389.
- Support line of 114.330 and 114.081.
Commentary/ Reason:
The t Japanese yen rose as much as 0.2% earlier on the day to a nearly three-week high of 114.497 per dollar before paring its gains, last traded at 114.460 per dollar.

The yen was supported on Tuesday as ramped-up Russia-Ukraine tensions weighed on stocks and boosted the safe-haven demand for the yen.

Currency markets participants are also focused on central bank policy, seeking clues on the speed and size of interest rate hikes in major markets.

The USD/JPY pair has pulled right back to the recent descending trendline toward a key support level for the pair. Typically, bullish rebounds take place at this price level. Momentum indicators have moderate downward trajectories, with MACD approaching the zero line.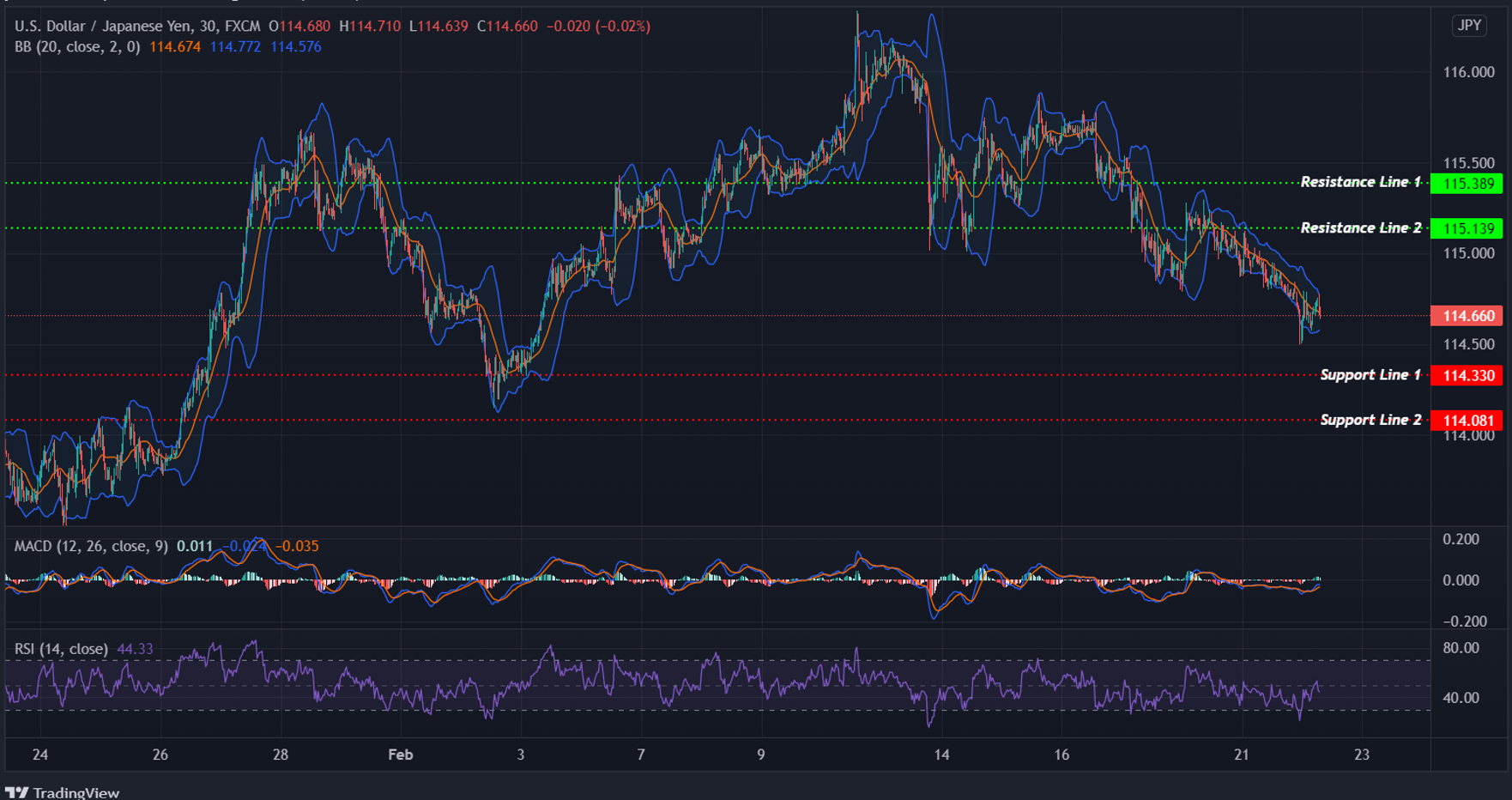 [GBPUSD]
Important Levels to Watch for:
- Resistance line of 1.36542 and 1.36867.
- Support line of 1.35491 and 1.35167.
Commentary/ Reason:
Sterling shed slightly to $1.35844 on Tuesday, as Russia-Ukraine tensions tempered the initial optimism

Though the British pound still garner some support on rising bets for an additional interest rate hike by the Bank of England, provided an additional lift to the GBP/USD pair. Money markets are currently pricing in a 50bps rate hike from the BoE next month, after delivering two 25bps hike in the previous two meetings.