INTRADAY TECHNICAL ANALYSIS 25 APRIL (observation as of 8:00 UTC)
[EURUSD]
Important Levels to Watch for:
- Resistance line of 1.09365 and 1.10005.
- Support line of 1.07295 and 1.06655.
Commentary/ Reason:
After initially opening higher, the euro nosedive 0.60% to $1.07344 to record a new two-year low last hit last week.

The dollar climbed on Monday as investors sought safety due to uncertainties over the global growth outlook, gaining ground even on the euro despite French President Emmanuel Macron's comfortable election victory over far-right rival Marine Le Pen.

With the French election out of the way the market is starting to focus on other worries. Stock markets are in the red this morning, and that risk aversion has generally benefitted the dollar.

The EUR/USD is testing the support level at 1.0729. A move below this level will open the way to the test of the support at 1.0665. The RSI 14 is slipping below 40.00, which will also bring a fresh bearish impulsive wave.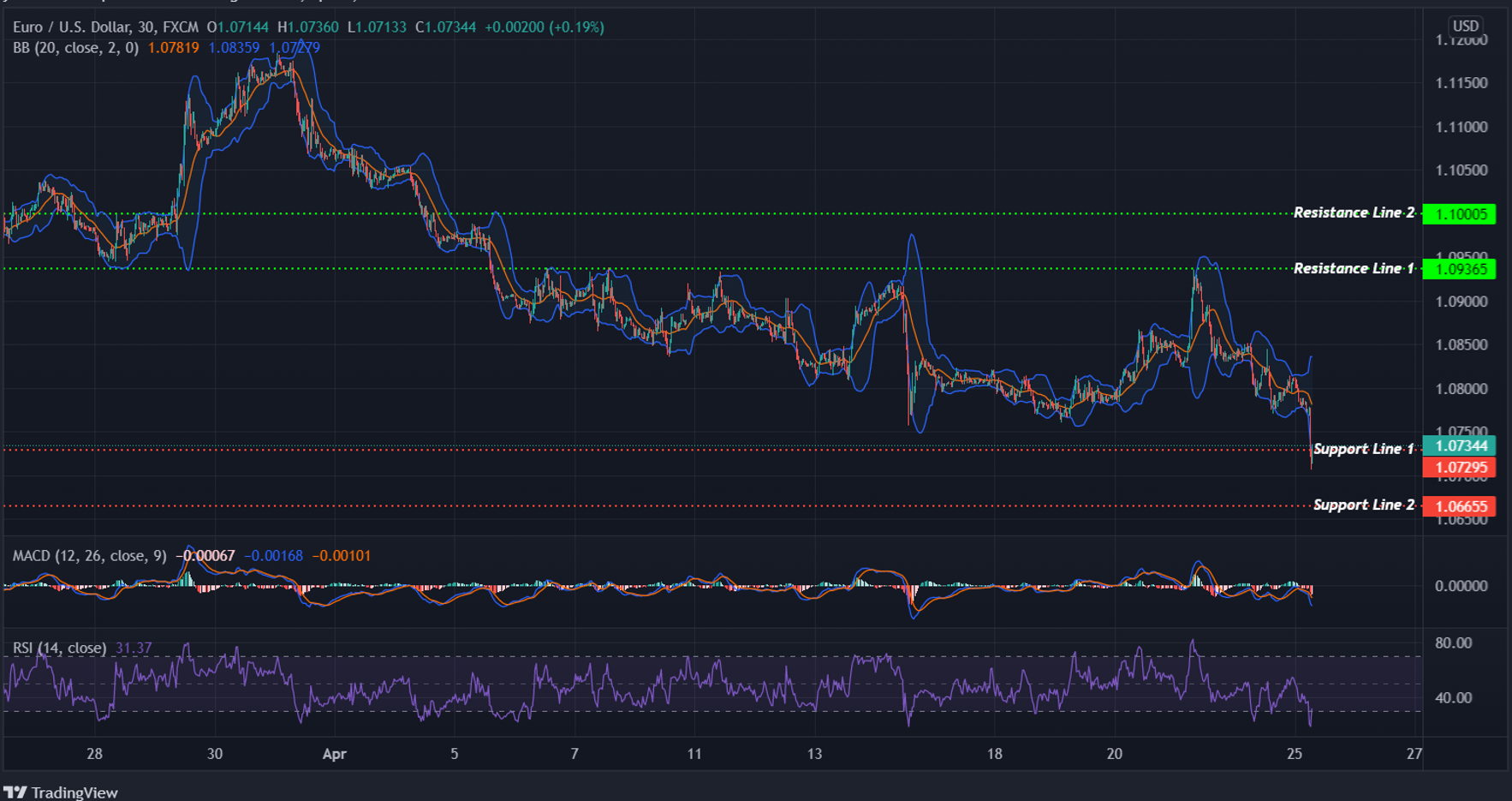 [USDCHF]
Important Levels to Watch for:
- Resistance line of 0.95893 and 0.96305.
- Support line of 0.94559 and 0.94147.
Commentary/ Reason:
The franc remained pressured on Monday, to record a new low since June 2020. The Swiss franc was traded 0.16% lower at 0.95752 dollar.

The greenback has been scaling higher right from the first tick in April on progressing odds of a jumbo rate hike by the Fed in its upcoming monetary policy meet while the Swiss National Bank (SNB) will stick with its ultra-loose monetary policy due to lower aggregate demand. Investors also shrugged off Swiss's 13-year high inflation print at 2.2%.

The USD/CHF pair approached the bullish channel's resistance that appears on the chart, waiting to resume the main bullish trend to test 0.9576. We'll continue to suggest the overall bullish trend that gets continuous support by the EMA50. Sustained break will pave the way to next at 0.9630. On the downside, break of 0.9455 support is needed to indicate short term topping. Otherwise, outlook will remain bullish in case of retreat.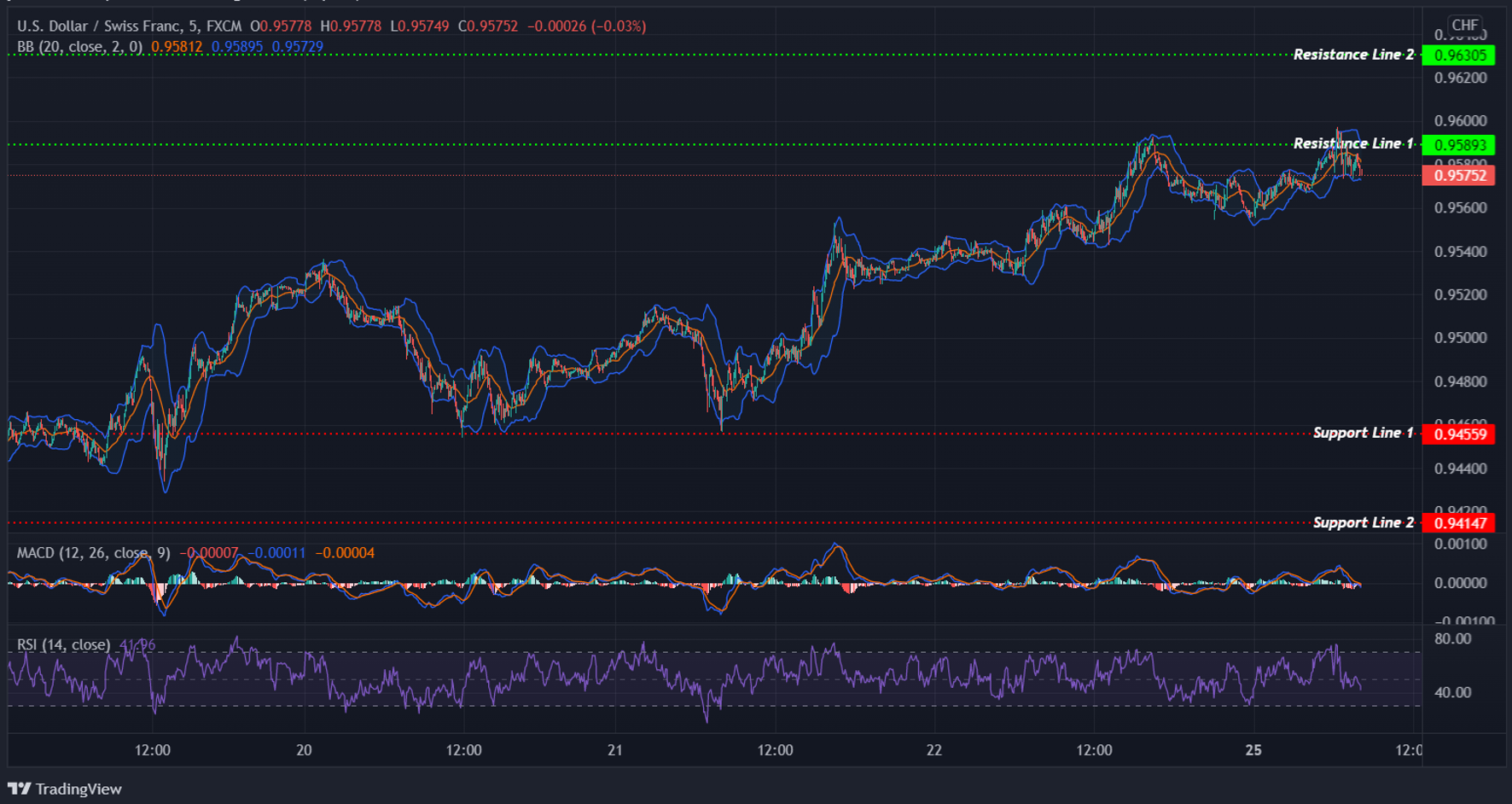 [USDJPY]
Important Levels to Watch for Today:
- Resistance line of 130.072 and 131.003.
- Support line of 127.060 and 126.129.
Commentary/ Reason:
The Japanese yen was last trading at 128.108 per dollar, rising 0.25%. It crossed the 129-level last week before strengthening slightly.

The dollar has gained 11% on the yen so far this year. Last week's 129.4 was the highest for the pair in 20 years.

The Japanese yen paused its rapid decline on Monday amid reports that Japan and the U.S. likely discussed the idea of coordinated currency intervention to stem further yen falls in last week's bilateral finance leaders' meeting. The news came after Japanese Finance Minister Shunichi Suzuki described recent yen falls as "sharp" and said he agreed with U.S. Treasury Secretary Janet Yellen to communicate closely on currency moves.

Among major currencies, the Japanese yen has been the most affected by rising U.S. interest rates, with Japan keeping its benchmark yields pinned down at ultra-low rates. The BoJ's stubborn commitment to it zero-rate programme puts it at odds with major central banks that are shifting toward tighter monetary policy, although inflation in Japan is expected to creep up towards the central bank's 2% target.

In contrast, surging inflation is prodding the U.S. Federal Reserve and the European Central Bank to remove stimulus deployed during the COVID-19 pandemic.

The Bank of Japan is set to maintain ultra-low interest rates on Thursday in its central bank meeting and hold off from major tweaks to its dovish policy guidance, as rising raw material costs force it to focus on underpinning a fragile economic recovery.