Uber Technologies, Inc. is an American ride services and merchants delivery service platform that connects consumers with independent providers of ride services for ridesharing services; and connects riders and other consumers with restaurants, grocers, and other stores with delivery service providers for meal preparation, grocery, and other delivery services.
The company does not own any vehicles but receives a commission from each booking. Fares, which vary using a dynamic pricing model based on local supply and demand at the time of the booking, are quoted to the customer in advance.
The company operates through three segments: Mobility, Delivery and Freight. The Mobility segment refers to products that connect consumers with Mobility Drivers who provide rides in a variety of vehicles, such as cars, auto rickshaws, motorbikes, minibuses, or taxis. The Delivery segment offers consumers to search for and discover local restaurants, order a meal, and either pick-up at the restaurant or have the meal delivered and, in certain markets, includes offerings for grocery, and convenience store delivery and other goods. The Freight segment connects carriers with shippers on the company's platform and enable carriers upfront, transparent pricing, and the ability to book a shipment, as well as transportation management and other logistics services offerings.
Uber was formerly known as Ubercab, Inc. and changed its name to Uber Technologies, Inc. in February 2011. The company was founded by Oscar Salazar Gaitan, Travis Kalanick and Garrett Camp in 2009 and is headquartered in San Francisco, CA with operations in approximately 72 countries and 10,500 cities. The global ride-sharing application disrupted modern transportation as we know it and at one point grew to become the highest-valued private start-up company in the world.
Ten years after its founding, Uber went public on May 9, 2019, announced an IPO with an offering of 180 million shares trading at a price of $45 per share. It began trading at $42 per share on the New York Stock Exchange on May 10. The IPO raked in $8.1 billion, putting the company's valuation at around $75 billion. It was the biggest IPO of the year on the NYSE and one of the 10 largest ever.
Today, the share price was traded at $32.80 on the NYSE under the symbol UBER, with a market capitalization of $64.109 billion as of August 17, 2022.
Second-Quarter Growth Metrics
UBER released the company's Q2 2022 financial results on August 2nd before the market opened, and its key metrics came in above what investors had anticipated. The share prices of surged 19% on the day following the announcement.
The provider of ride-sharing services reported revenue soared 105% year over year to $8.07 billion, beating analysts' expectations by $700 million. The company also said that it generated free cash flow of $382 million in the quarter. It was the first time Uber reached that goal, which it had promised investors when stripping out one-time costs. Meanwhile its gross bookings (a measure of the total dollar value of its ridesharing, delivery, and freight services that excludes tips, discounts, and refunds) rose 33% to $29.1 billion. The company is now expecting gross bookings in the Q3 in the range of $29 billion to $30 billion. The estimate among analysts calls for $30.1 billion.
The company, however, also posted a net loss of $2.6 billion, compared to a net profit of $1.1 billion a year earlier, mainly due to a $1.7 billion headwind from its equity investments. As a result, it reported a net loss of $1.33 a share, broadly missed analysts' expectations. But on the basis of adjusted EBITDA (earnings before interest, taxes, depreciation, and amortization), which excludes those hefty equity losses, it posted a net profit of $364 million, compared to a net loss of $509 million in the prior-year quarter.
Next Uber earnings date is on November 9.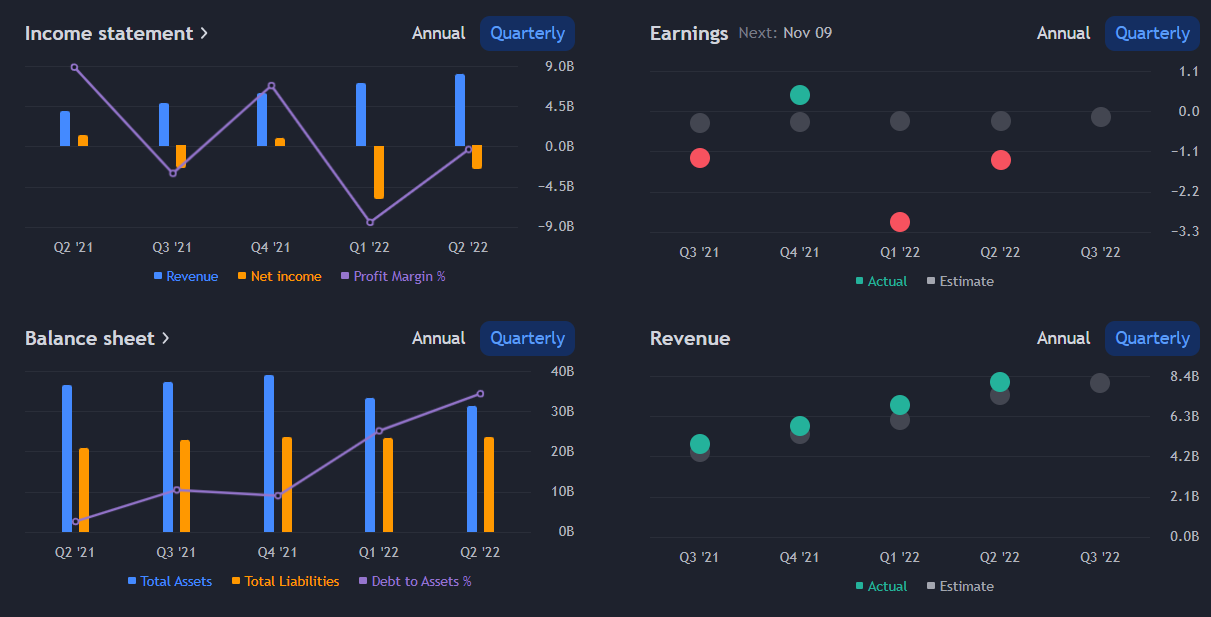 The Prices/ Stock Performance
Historical daily share price chart and data for Uber Technologies. The latest closing stock price for Uber Technologies as of August 17th, 2022, is 30.72.
· The all-time high Uber Technologies stock closing price was 64.05 on February 11, 2021.
· The Uber Technologies 52-week high stock price is 48.88, which is 66.48% above the current share price.
· The Uber Technologies 52-week low stock price is 19.90. According to the current price, Uber is 163.27% away from the 52-week low.
· The average Uber Technologies stock price for the last 52 weeks is 34.96.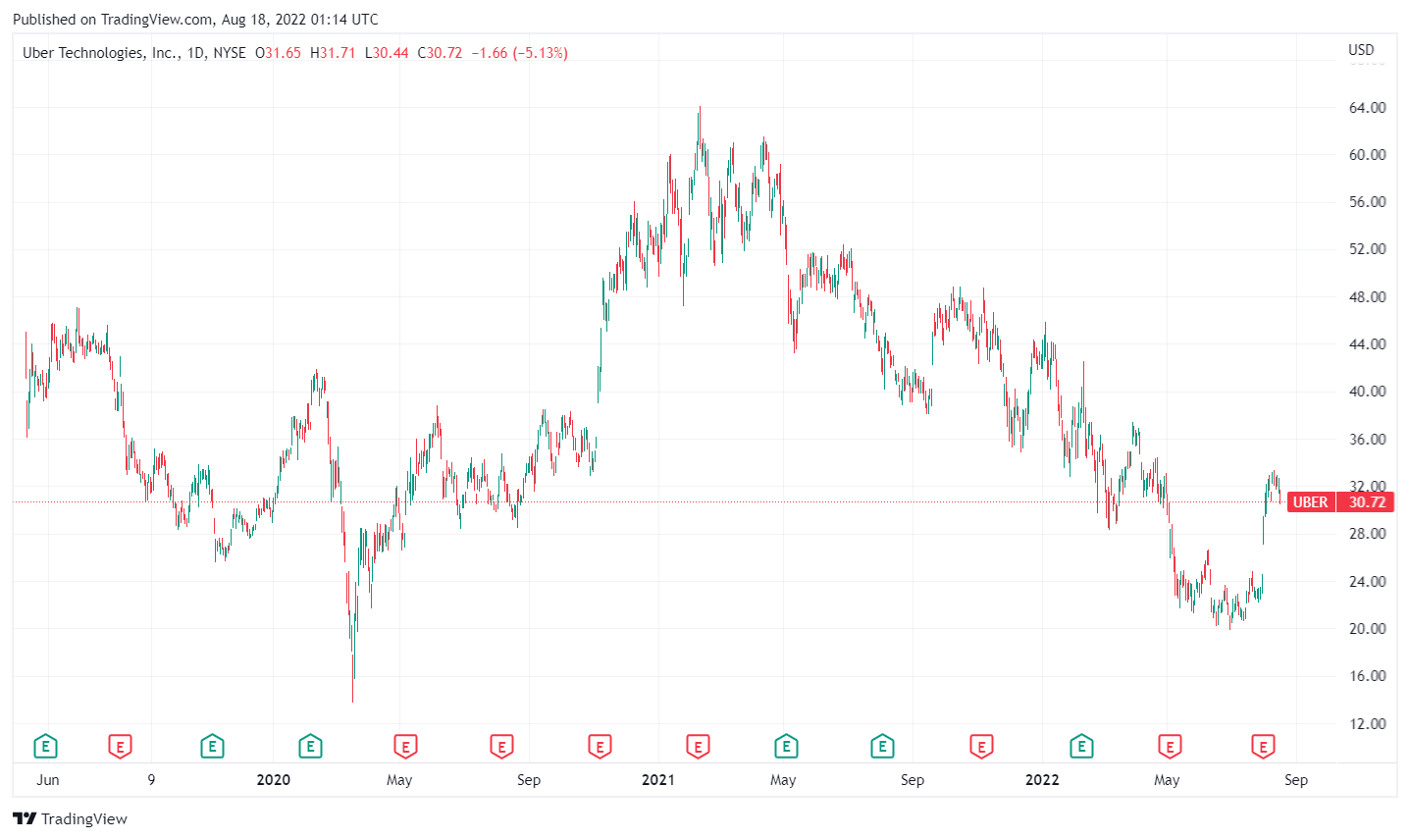 Why Is Uber's Stock Price Falling?
Uber Technologies' stock price has been falling since the beginning of the year. Uber's shares have dropped by 22% in 2022 thus far, and this represents a significant underperformance relative to the S&P 500's 13.6% pullback in the same period.
We at Golden Brokers think that there are three key reasons for Uber's year-to-date share price fall.
1. Weak consumer sentiment led to lower revenue - It is likely that more people will cut back on non-essential spending like rides and food deliveries, and switch to public transport and cooking their own meals instead in the short term. Notably, Uber CEO comments cited in May and June, respectively also point to a slower pace of recruiting for the company in the foreseeable future.
2. Regulatory headwinds. Global regulatory risks remain a concern for the company. This was followed by recent news in the early part of this month that Uber continued to be prevented from offering its services in Geneva following a new ruling by the Swiss Federal Court.
3. Worries that Uber Technologies will have to increase its driver incentives in a substantial way to compete with its rival Lyft, Inc for drivers. - LYFT would boost spending to get more drivers to its platform." Assuming that Uber becomes more aggressive in competing with Lyft for drivers, this could translate into higher driver incentives and weaker profitability for the company going forward.
The three factors discussed above are responsible for Uber Technologies' stock price correction. But we remain positive on Uber taking into account the company's above-expectations Q2 results, favourable long-term outlook, and undemanding valuations.
Analysis
Uber's stock isn't a screaming buy yet, but its business is recovering, it's surprisingly resistant to inflationary headwinds, and its bottom line is stabilizing. Therefore, I think the stock is worth nibbling on right now -- but investors shouldn't assume it's bottomed out in this tough market yet.
The results of Q2 earnings were "particularly impressive given the growing list of macro and micro concerns weighing on Uber and Lyft such as demand outlook amidst rising inflation, supply trends amidst high oil prices and profitability potential beyond reopening tailwinds. Uber and Lyft have both had to deal with a shortage of drivers, as well as higher gasoline prices that they have offset with temporary fuel surcharges. At the same time, inflation is making people more likely to try to save money by staying home, rather than using ride-share services to go out. Uber shares have fallen 22% this year, while Lyft has dropped 62%.
Uber continues to show that it has emerged stronger from the pandemic with strong execution and category position gains in key markets in both Mobility and Delivery.
I believe that UBER can meet the market's long-term expectations relating to its EBITDA margins and free cash flow growth. One key factor is the positive impact of declining customer acquisition costs over time driven by its multiproduct platform. Another key factor is positive operating leverage brought about by economies of scale. This is especially true for new, fast-growing businesses like advertising, which Uber will take some time to grow to a certain size. I see Uber's shares as undervalued now, rather than being fairly valued.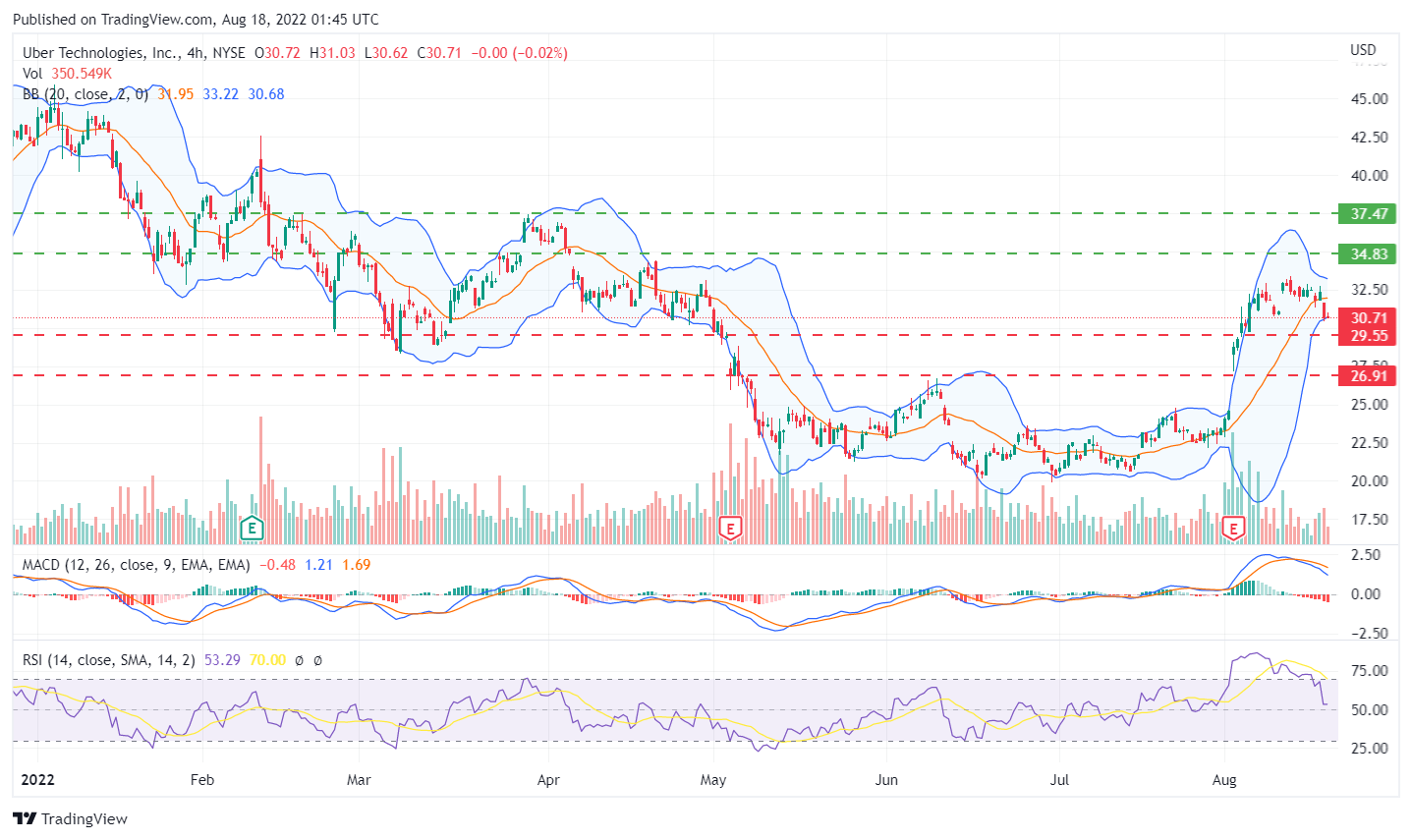 The Uber stock price fell by -5.13% on the last day (Wednesday, 17th Aug 2022) from $32.38 to $30.72. and has now fallen 3 days in a row. During the last trading day, the stock fluctuated 4.17% from a day low at $30.44 to a day high of $31.71. The price has been going up and down for this period, and there has been a 1.76% gain for the last 2 weeks. Volume fell on the last day along with the stock, which is a good sign as volume should follow the stock. Volume fell together with the price during the last trading day, and this reduces the overall risk as volume should follow the price movements. On the last day, the trading volume fell by -4 million shares and in total, 24 million shares were bought and sold for approximately $742.87 million.
The stock lies in the middle of a very wide and strong rising trend in the short-term and a further rise within the trend is signalled. Given the current short-term trend, the stock is expected to rise 30.09% during the next 3 months, with probability to hold a price between $29.55 and $34.83 at the end of this 3-month period.
On further gains, the stock will meet resistance from the short-term moving average at approximately $37.47. On a fall, the stock will find some support from the long-term average at approximately $26.91. A break-up through the short-term average will send a buy signal, whereas a breakdown through the long-term average will send a sell signal. There is a buy signal from the 3-month MACD, on the indicator of 1.21.
Some negative signals were issued as well, and these may have some influence on the near short-term development. Uber Technologies 50-day simple moving average is 24.73 while the share price is 30.72, making it a Buy technically, though the 200-day SMA is 32.57, creating a Sell signal. Further fall is indicated until a new bottom pivot has been found.
For us at Golden Brokers Ltd, Uber stock remains a top pick. The confidence about the supply of drivers, the generation of free cash flow, and the transition toward consistent profitability be the main preference for us to choose Uber as the right choice.