While some of us are still in lockdown, quarantine, or holiday and upcoming weekend, let's loosen up our mind of numbers and graphs and charts. Apart of researching, reading books, and attending seminar/webinar on the topic of finance, several movies and films can be both entertaining and educational. We at Golden Brokers would like to share five films related to stocks and the world of finance.
1. Becoming Warren Buffet (2017)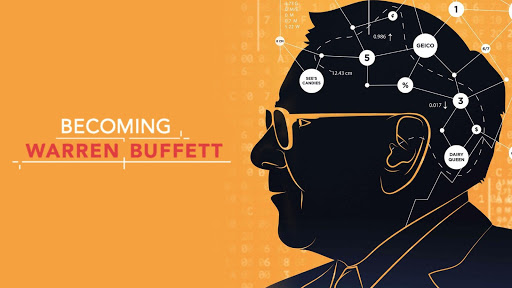 The documentary covers the life and career of Warren Buffett, who is widely regarded as one of the most successful and influential investors of the 20th century. The film conveyed a lot of words by Buffet himself on how from first becoming an investor to becoming a successful business expert to this day.
Buffett is interviewed extensively on his upbringing, his early facility with mathematics and interest in investing, and his time as a young adult studying under Benjamin Graham to learn the principles of value investing. His friends, family and colleagues are featured in interviews, including his wife Susan Buffett and his long-time business partner Charlie Munger.
2. Margin Call (2011)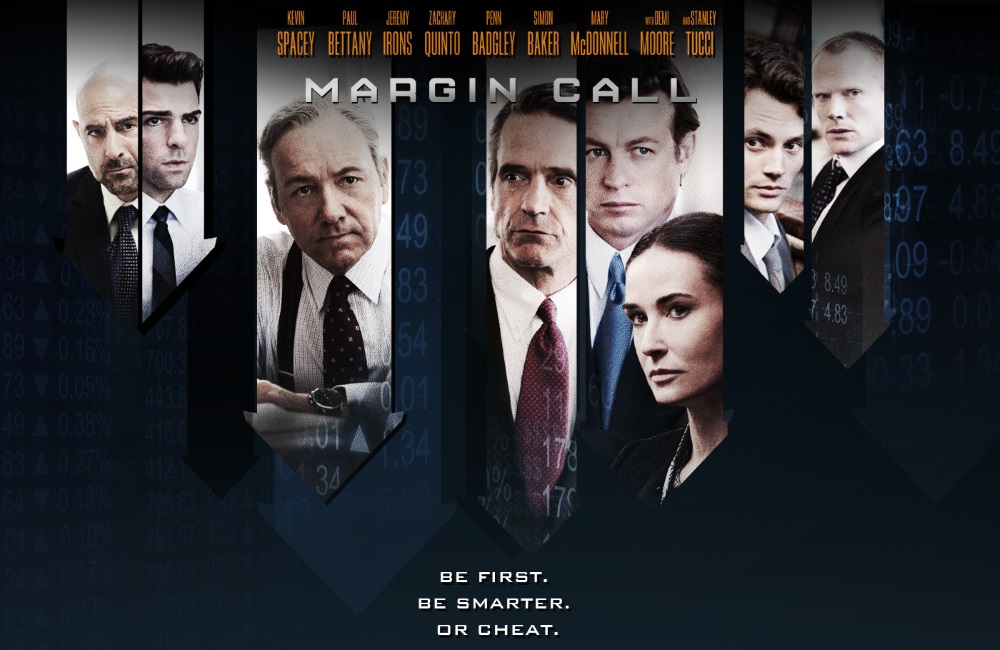 Margin Call is a stock trading fiction. A financial thriller film written and directed by J. C. Chandor. The cast consisting of Kevin Spacey, Paul Bettany, Jeremy Irons, Zachary Quinto, Penn Badgley, Simon Baker, Mary McDonnell, Demi Moore, and Stanley Tucci.
The story takes place over a 24-hour period at a large Wall Street investment bank during the initial stages of the financial crisis of 2007–2008. When an analyst uncovers information that could ruin them all, the key players at the investment firm take extreme measures to control the damage. Margin Call explores capitalism, greed, and investment fraud.
3. Inside Job (2010)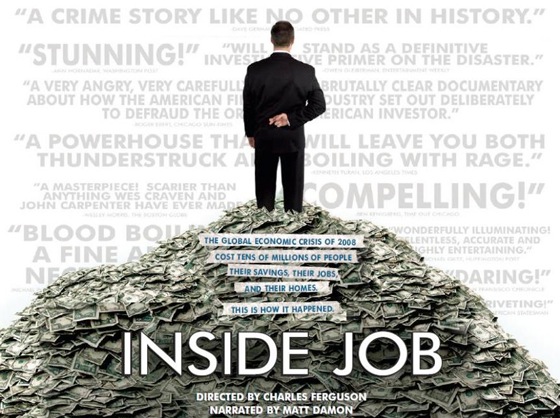 Inside Job is a documentary film, directed by Charles Ferguson. The film explores the late-2000s financial crisis that took place in the U.S. and the hands responsible for it. In five parts, the film explores how changes in the policy environment and banking practices helped create the financial crisis.
The global financial meltdown caused millions of job and home losses and plunged the U.S. into a deep economic recession. Matt Damon narrates a documentary that provides a detailed examination of the elements that led to the collapse and identifies keys financial and political players. Director Charles Ferguson conducts a wide range of interviews and traces the story from the U.S. to China to Iceland to several other global financial hot spots. The film won the 2011 Academy Award for Best Documentary.
4. The Big Short (2015)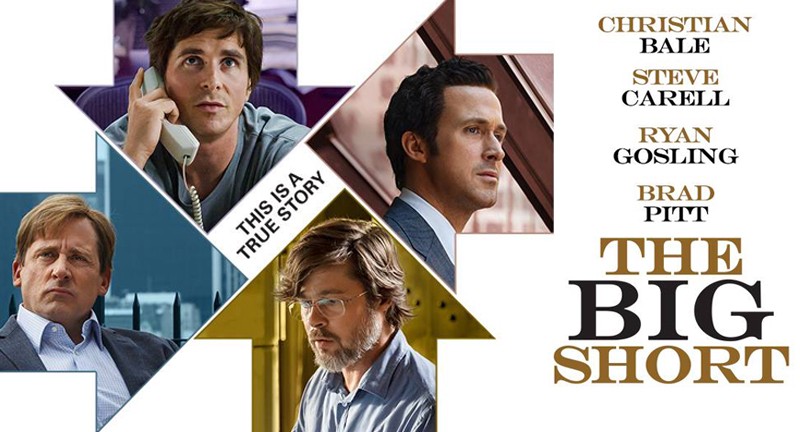 'The Big Short' is another film about the 2008 economic crisis that took place in America. The film was directed by Adam McKay, based of author Michael Lewis's best-selling book of the same name, focuses on the lives of several American financial professionals who predicted and profited from the build-up and subsequent collapse of the housing bubble.
In 2008, Wall Street guru Michael Burry realizes that several subprime home loans are in danger of defaulting. Burry bets against the housing market by throwing more than $1 billion of his investors' money into credit default swaps. His actions attract the attention of banker Jared Vennett (Ryan Gosling), hedge-fund specialist Mark Baum (Steve Carell) and other greedy opportunists. Together, these men make a fortune by taking full advantage of the impending economic collapse in America.
The film stars Christian Bale, Steve Carell, Ryan Gosling and Brad Pitt, with Melissa Leo, Hamish Linklater, John Magaro, Rafe Spall, Jeremy Strong, Finn Wittrock, and Marisa Tomei in supporting roles.
The film had a brief resurgence in the wake of the January 2021 GameStop, Blackberry, AMC Entertainment and Macy's short squeeze as the events shown in the films provided reference points and understanding for what was happening with these stocks.
5. Wall Street (1987)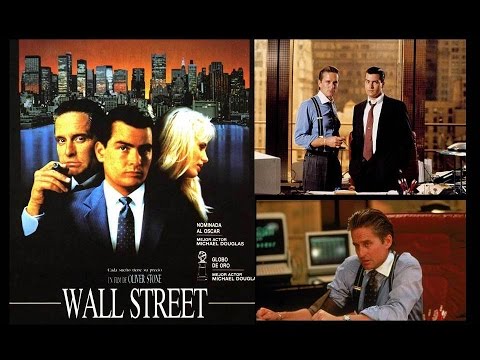 Wall Street is an American drama film, directed and co-written by Oliver Stone, which stars Michael Douglas, Charlie Sheen, Daryl Hannah, and Martin Sheen.
The film tells the story of Bud Fox (C. Sheen), a young stockbroker who becomes involved with Gordon Gekko (Douglas), a wealthy, unscrupulous corporate raider. On the Wall Street of the 1980s, Bud Fox is a stockbroker full of ambition, doing whatever he can to make his way to the top. Admiring Gordon Gekko (Michael Douglas), Fox persuades Gekko into mentoring him by providing insider trading. As Fox becomes entangled in greed and underhanded schemes, his decisions eventually threaten the livelihood of his father. Faced with this dilemma, Fox questions his loyalties.
The film has also proven influential in inspiring people to work on Wall Street, with the actors and director commenting over the years how people still approach them and say that they became stockbrokers because of their respective characters in the film.
The film then got it sequel titled Wall Street: Money Never Sleeps, which was released on September 24, 2010.
6. Boiler Room (2000)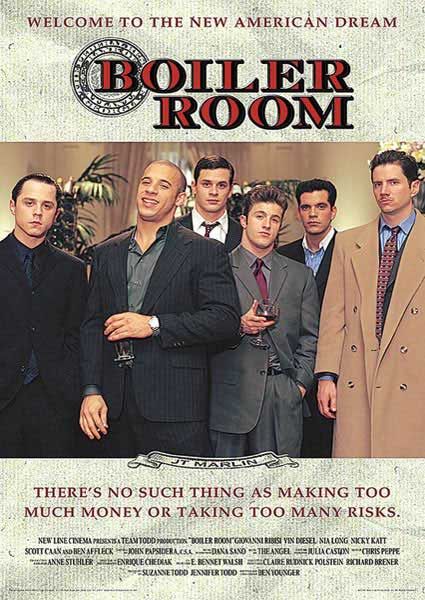 Boiler Room is a 2000 American crime drama film written and directed by Ben Younger and starring Giovanni Ribisi, Vin Diesel, Nia Long, Ben Affleck, Nicky Katt, Scott Caan, Tom Everett Scott, Ron Rifkin, and Jamie Kennedy.
The film tells the story of Seth David, who gets a job as a broker for a suburban investment firm which puts him on the fast track to success. But the job might not be as legitimate as it first appeared to be.
Exploring the concept of pump & dump, this film is excellent and gives an insight into the operations that are still around today. This film also teaches us to only choose authorized broker for trading. The Wolf of Wall Street is another film about a pump-and-dump scheme that helped IPO several large public companies during the late 80s and 90s.
Apart from the listed above, some other honourable mention films and documentaries include Rogue Trader (1999), Trading Places (1983), Barbarians at The Gate (1993), Enron: The Smartest Guys in The Room (2005), The Pit (2009), American Psycho (2000), Glengarry Glen Ross (1992), Banking On Bitcoin (2017), Too Big to Fail (2011), The China Hustle (2018), and Chasing Madoff (2010).
All these films bring very interesting lessons as well as providing a bit of insight into the wild and sometimes absurd world of finance. However, as the saying goes, "truth is stranger than fiction," and as events like the 2008 recession, the fall of Enron, and the Madoff scandal have shown, real life can be far more unbelievable than any tale Hollywood can craft.