The gold price had surged more than 28% so far this year and hitting all-time high around $2,075 in August, largely attributed by a combination of rising COVID-19 cases, weakness in the dollar, lower interest rates, and geopolitical events such as the tensions between the U.S. and other countries such as North Korea, China, and Iran.
Just before the U.S. presidential election, gold's advance has faltered, with prices losing their upward momentum as investors questioned whether bullion had risen too far and too fast. Uncertainty is high before the pivotal vote, lifting the dollar's appeal as a haven asset over bullion, increases in risk-off sentiment to buoy the greenback, weakens the gold and silver.
Gold headed for a third monthly drop, the longest run since 2019, as investors awaited on the result of the presidential election amid the threat of rising coronavirus cases and lack of agreement on a U.S. stimulus plan. At the moment, it appears that Democrats and Republicans are unlikely to agree on a stimulus deal. The next FOMC meeting on Thursday is to be observed. Though it is expected that the Fed will make no changes to its monetary policy statement. In addition, COVID-19 continues to push back into the centers of the U.S. outbreak such as New York and New Jersey, and the pandemic is resurgent right across Europe's major economies.
During the last week, the precious metal started on a positive note and climbed to a fresh weekly high of $1931. Then later retreated, failed to break above October highs and withdrew to below the $1900. On Tuesday, spot gold was little changed at US$1,894.36 an ounce, after posting the lowest close since Sept. 25 on Thursday last week. So far this month, it has lost 0.54%.
Gold continues to oscillate within a descending triangle pattern with neither floor nor ceiling of the triangle being breached. As oscillations continue to narrow, a breakout seems more likely. Momentum indicators have stalled in the neutral zone.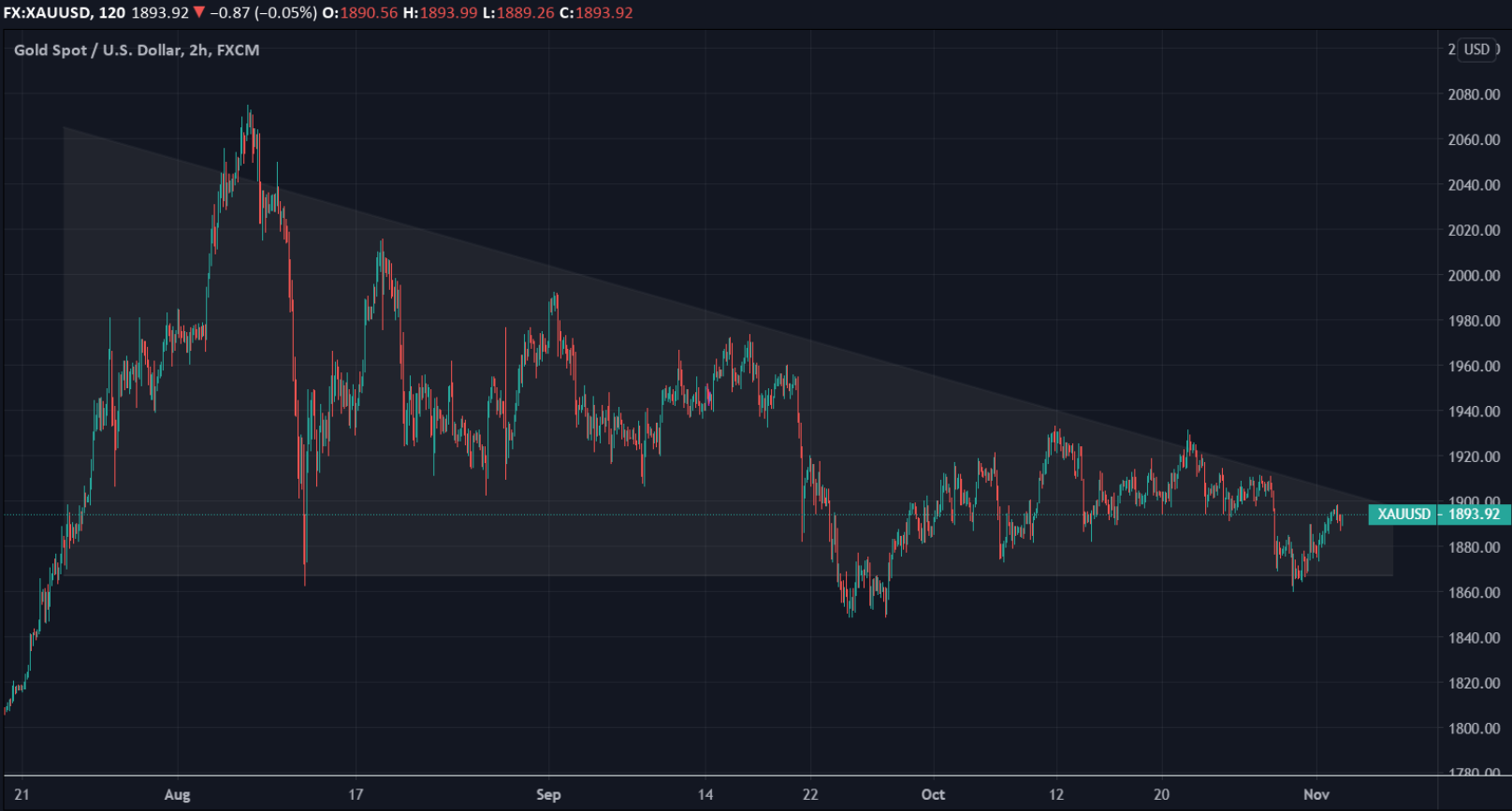 US Presidential election will be an important focus and will certainly have a significant impact on gold prices. The question is where could gold prices go after the election? As per the recent polls, the former Vice President Joe Biden still maintains his lead over President Donald Trump in the presidential race, but the race is much closer in the battleground states that will decide the election.
Other drivers for the movement of the precious metal including on the U.S. stimulus negotiations, FOMC meeting, the resurgence of COVID-19 cases, and the movement in the US dollar.